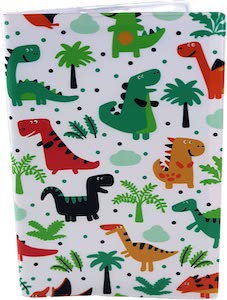 Now there is this fun Kids Dinosaur Passport Cover that is perfect for the passport of a child that loves dinosaurs.
The passport covers is white with on it lots of cartoon like dinosaurs and even some trees and leaves and they all look pretty happy to be there.
The passport cover is made from PVC making it great at protecting the passport inside it and having this fun cover also makes it easy to find out what passport is of your child in the stack of passports you hold while traveling.
And even if you are an adult that loves dinosaurs then you can use this passport cover.