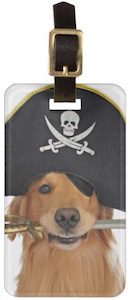 This luggage tag is perfect for people the love to travel and love dogs, pirates, and Halloween.
On the front of the luggage tag, you can see a golden retriever wearing an eye patch, pirate hat, and a sword in its mouth.
It's just a fun luggage tag for on your suitcase as now people will know that you have a pirate dog that will protect you if need be.
On the back, there is a card slot in which you can have a card with your info on it so that your luggage does not have to get lost anymore.