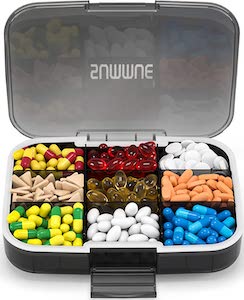 Now there is this Adjustable Pill Organizer that is the pill box you need for at home and for on your trips.
This pill box by Summue can be adjusted in 3 ways, it can have 9, 6 or 3 compartments making it super handy and perfect for your needs.
And this pill organizer is large not so that there is plenty of space for all your medication and / or vitamins. And it has a seal to keep out moisture out so that your pills stay the way they should.
The pill box also has a great latch to keep it close when you are not using it and it sits in your bag.
You know this pill box is perfect and to make it a bit more fun they even make them in different colors to be perfect for your personality.