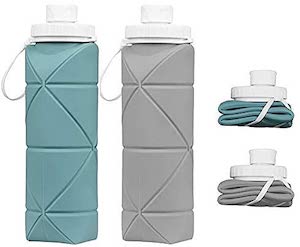 Now you can always have a vessel for your drinks all thanks to these Collapsible Water Bottles.
These water bottles are great for traveling as they fold down really small and don't worry they don't leak and hey can cold and warm beverages.
And these bottles are available in many colors including pink, and you can see all the colors by clicking on the picture.
The nice things about a collapsible water bottle is that you can have it in your bag the whole time and just fill it when you want it. And it is great to take on holidays too as it can just sit in your suitcase until your reach your destination.