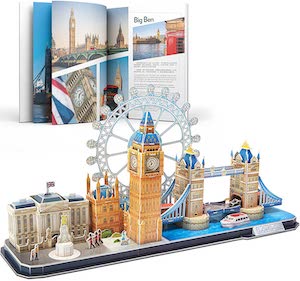 If you like a fun tourist things about London that you have to build yourself then check out this London 3D Puzzle.
This is a puzzle but not one of those flat once, this one is 3D which makes it really cool and you can give it a nice spot in your home when you are done building.
The London puzzle includes the London Eye, Buckingham Palace, Tower Bridge, and the Big Ben and you have to all build it yourself.
And this puzzle does not need tools or glue and will end up with something really neat that just deserves on a shelve in your home.