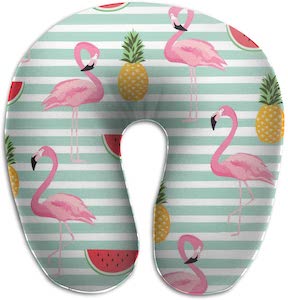 Get ready for a nap while traveling and that is why you want this Flamingo And Summer Foods Neck Pillow.
This travel pillow has the typical U shape and has a lined background and then on top of it all something you want for summer. There are some flamingo birds on it but also pieces of watermelon and a bunch of pineapples. Everything you need for a summer is on the pillow and when you wear it on a plain, train, or car you may dream of those fun pink birds.
And the neck pillow is nice and soft so really comfortable when you use it.