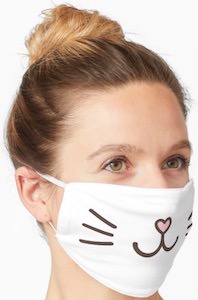 Now you can get this Cute Cat Face Mask that looks so much better than the boring face masks other people wear.
This mask is made for adults and is not medical grade so don't use it with patients if you are a doctor but it is great for protecting you and others while traveling around.
The face mask is shite and shows a cute cat face on it and the nose is even a cute pink heart.
And you can wash this face mask so that it is always clean for when you need to go out. The cute cat is perfect as it will make people smile when they see you.