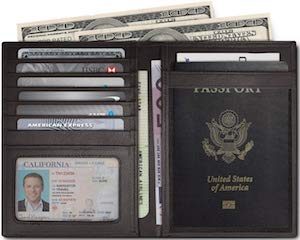 Now there is this great RFID Blocking Leather Passport Cover.
The passport holder comes in black, brown, and dark pink (click the picture to see all colors) and is great for traveling as it can hold all the important stuff including your passport.
Beside you passport there is room for cards like credit cards and frequent flyer cards and there are pockets for tickets and even cash.
And if you are worried that people steal your information that is electronically build into your cards or passport then stop worrying as it is and RFID blocking passport holder.
Now you can just start you trip wit just one holder for all your travel needs.