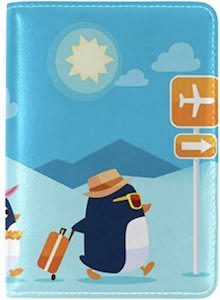 Now you can protect your passport with this Traveling Penguins Passport Cover.
The outside of the cover shows a scenery with hills and there are clouds and the sun in the sky and there is a sign to the airport and then there is a family of penguins that is all ready for a holiday and is walking to the airport with their suitcases.
Inside there is room for your passport so that it will be protected from damage while also looking really fun on the outside.
A passport cover like this is also great if you travel with your family as then you will know what passport is yours.