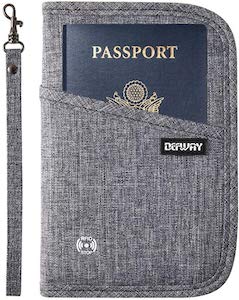 Now you can keep your travel documents together in this Passport And Travel Document Holder that is also blocking RFID.
You can get this passport holder in black, pink, blue, and grey.
Inside the holder there is room for your passport, cards,  documents and a pen and you can close it and zip it up to keep everything secure and then on the front there is a pocket that can have your passport in it when you need it quickly but can also hold document or even your mobile phone.
Keep all your travel documents together in this holder which makes it so much easier when you travel as it is all in one place.