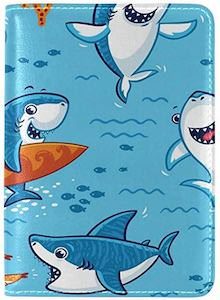 Now there is a Fun Sharks Passport Holder that is great for kids and adults.
Passports are important documents and you want it to be protected and this passport cover is just perfect for that.
The cover can hold your passport inside it and the outside just looks fun because it is blue like water and on it, you can see fish swimming around and some cute sharks that are doing all kind of things like going surfing or chasing some fish.
A passport holder is also great to make your passport look unique which is handy when holding the passports of the whole family.
And as the shark cover is fun it would be great for kids and adults.