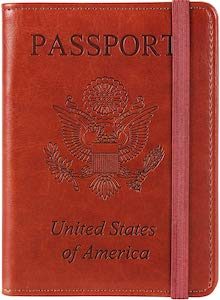 Now you can have a USA Passport Cover With RFID Block that not only protects your passport but also makes it clear that you are from the United States Of America.
The passport cover is available in many colors which you can all see by clicking on the picture and some of them are even really bright if you like that.
Inside it, there is room for your passport and there is room for much more like credit cards, cash, tickets, and even spare sim cards and a pen. And as the cover has a band around it everything stays neatly together.
And this passport cover has double RFID shielding so that your information stays secure.