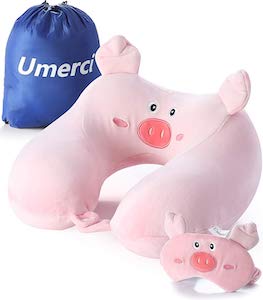 Now you can travel in style all thanks to this Pig Travel Pillow and Eye Mask set.
If you like pigs and traveling then you would like to check out this set as is has a pink travel pillow with a pigs face on it and even cute ears and then there is a eye mask that is also pink with the face and the ears for the pig on it. And this set comes with a storage bag so that they can always stay together when not in use.
Wearing the eye mask will be funny as people will look at you and see the face of a piggy and the memory foam neck pillow will be really comfy and is great at supporting your neck.