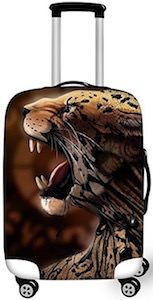 Now you can have a leopard to protect your suitcase because now there is a this cool Cheetah Suitcase Cover.
And this cover has a nice cheetah on it so that you can show people around you like this animals and it makes it really easy to spot your luggage.
And you can get this suitcase cover in many sizes and it is very flexible so that it fits snug around your luggage while keeping your wheels and handles available.
A cover like this is not only great looking it also protects it from damage and makes it really hard for a quick theft from your luggage.