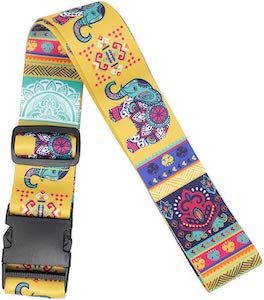 Now you can dress up your suitcase with this nice looking Yellow Luggage Strap With Elephants.
The luggage strap is yellow in color and has a design that reminds me a lot of India and that design includes lots of decorated elephants on it.
You can adjust the luggage strap in size so that it really fits tight around you luggage and the length of the luggage strap is between 43 and 79 inches so that it fits many suitcases.
A nice luggage strap like this is great around you luggage as it makes it a lot easier to spot and it also keeps your bag closed if the suitcase accidentally opens.