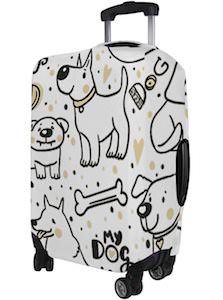 Suitcase covers are a great way to protect your suitcase and make it look so much more fun and now there is a dogs suitcase cover.
The white suitcase covers is covered in drawing of a bunch of dogs and besides the dogs you can find other details like bones and toys and it says "My Dogs" and "Dog" on it too.
You can get this fun suitcase cover in many sizes and all will keep the wheels and handles available for use and the strong cover is very flexible so that it can fit snugly around you luggage.
So if you like dogs then you should check this suitcase cover out.