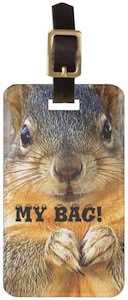 This Squirrel My Bag Luggage Tag is just perfect for on your suitcase.
On the front of the luggage tag you an see a cute squirrel with it's paws together and on top of it you can see the text "My Bag!" and it just looks cute.
On the back of the luggage tag you can choose to have a personalized print on the back with your info or you can have the typical ID card pocket so that you can keep changing your info by writing the include card.
An unique luggage tag like this makes it really easy to spot your suitcase in a bunch of others because yours will have the cute squirrel on it.