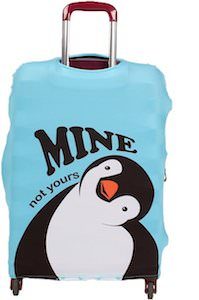 If you like penguins and want a nice project suitcase then you should check out this suitcase cover.
The suitcase cover is available in 3 sizes so that it will fit the luggage you have and it has a nice stretch so that it will fit tights and perfect while keeping your handles and wheels available for use.
The light blue suitcase cover shows a big penguin on it and that is looking sideways and the bird is saying "Mine not yours" so that other people know to stay away from your luggage.
No more worries about scratching up your luggage thanks to this amazing suitcase cover.