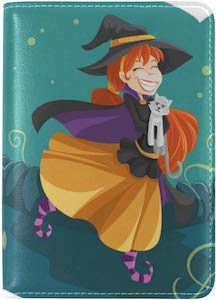 If you want to be all in Halloween style even when traveling then you should check out this Cute Witch Passport Cover.
This passport cover is great for protecting your passport from damage but it also makes it just ready for Halloween.
On both the front and the back of the passport cover you can see an images of a witch and she is happy as she has a giant smile on her face and she is also holding her cat and the animal is not so sure about what is happening.
It is just a really cute looking cover for your passport and that is what is just perfect for when you are traveling around Halloween.