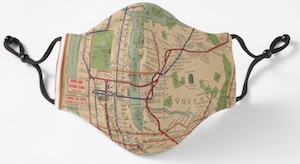 Thanks to the pandemic face mask are not going anywhere and that is why you want this 1954 New York Subway Map Face Mask as it looks way better than those boring plain one.
This face mask is available in different styles for adults and kids so that you can get the perfect fitting mask for you and it is washable and reusable so that you can reusing it and always have it clean and ready.
On the face mask it shows the map of the New York subway but not the one from today but the one from 1954 and the is just fun.
So if you are waiting to go to New York City and try the underground then why not start with this face mask.