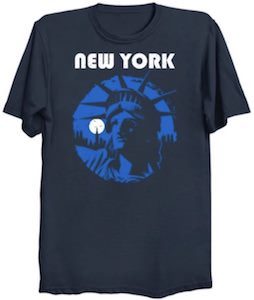 If you like to have a fun travel t-shirt then check out this New York Statue Of Liberty T-Shirt.
This t-shirt is great for anyone that like New York or is just going to travel there and wants to be prepared.
On this t-shirt you can see the Statue of Liberty in a circle at night and in the background you can see the Manhattan skyline in the background and even the moon. Above the circle it says in big letters "New York".
You can get this New York t-shirt in styles for men, women, and kids and it comes in black and blue and in many sizes to be perfect for about anyone.