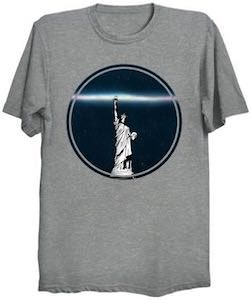 If you like New York and want a t-shirt then come see this The Light From The Statue Of Liberty T-Shirt.
This Statue Of Liberty t-shirt is available in style for men, women, and kids and comes in many colors and in sizes going all the way to adults 10XL.
On the t-shirt, you can see a circle that is filled with the night's sky and an image of the famous Statue Of Liberty and from her torch, there is a lot of light spreading to the left and the right.
Show the classic statue on your chest because this t-shirt is just fun to wear.