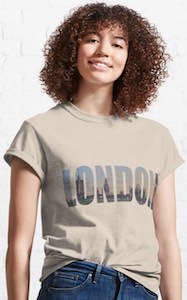 Now you can get this London With Skyline T-Shirt and feel a bit like you have been on holidays.
This London t-shirt is available in sizes Small – 3XL and comes in 17 fun colors and fits both men and women.
On the shirt is says in big letters "LONDON" but that is not all as if you look closely (or click on the picture) you can see it is filled in with the skyline of the city.
It is a great shirt for anyone that love London or a tourist that forgot to get the shirt.
And even if travel restriction may prevent you from visiting that does not mean you can't have the shirt.