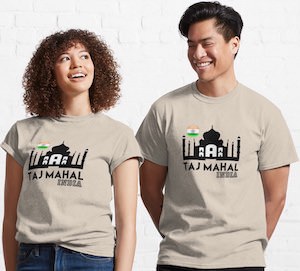 You may not be able to travel the world but you can still get a fun shirt to feel a bit like you did so check out this Taj Mahal India T-Shirt.
You can get this Taj Mahal t-shirt in style for men and women and it comes in many colors and in sizes Small – 3XL.
On the t-shirt you can see a silhouette of the Taj Mahal with a big A as entrance and also as it is the first letter of the town of Agra where the Taj Mahal stands. Below the building it says "Taj Mahal India" and above it all there is a small Indian flag.
This is a great shirt for tourists and people that just want to show some of the beauty of the world.