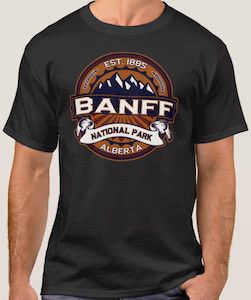 Now you can wear this Banff National Park T-Shirt as it is a great reminder of the special mountain town and park.
If you ever been to Banff and want to show that to all your friends then wearing this t-shirt could be a great way of doing it.
You can get this Banff National Park t-shirt in styles for men and women and it comes in lots of sizes and colors.
On the shirt you can see a crest with mountains in the back ground and on top the text "Banff National Park Albert Est. 1885".
I love going to Banff in Canada and this t-shirt is something I would wear as it just look so perfect.