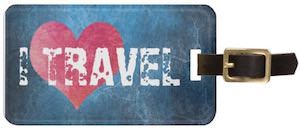 Now you can own this Worn Looking I Love Travel Luggage Tag that will look great on your suitcase.
This luggage tag has a worn look with a read heart on it and on top in worn looking letters it says "I Travel". On the back you can have your information printed on it or you can have it with an ID card pocket too if you like to be able to change the address,
A fun bag tag is also a perfect way to spot your suitcase on a luggage belt at the airport.
So if you need a new luggage tag and like traveling then this can just be perfect for you.