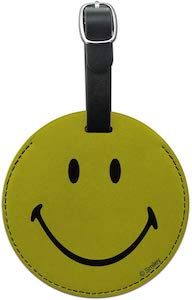 If you like a smile and need a fun bag tag then come check out this Smiley Face Luggage Tag.
This luggage tag is round like a true smiley face and it is yellow as expected and is has a smiling face on it.
The front and back look the same only you can flip open the back to see your ID card and that will help if your luggage ever gets lost.
A fun luggage tag is also fun nice for on your backpack or lunch bag and even a sports bag can use a tag like this making it so much easier to find your bag in between many bags that look the same.