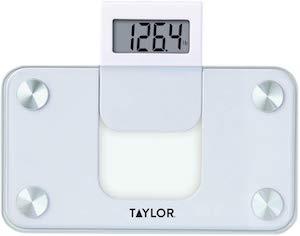 If you want to take scale to weigh yourself on your trips then this Taylor Extendable Travel Scale is just perfect for you.
This is a mini bathroom scale that is great for at home as it works great like any other scale but is really small making it easy to store away into maybe even your nightstand.
And as it is so small it is perfect for taking on a trip as it easily fits in your suitcase.
As you can see on the picture the display sticks out of the scale but it slides in to make it even compacter then it looks on the picture.
You can get this Taylor bathroom scale in black and white and it comes with a battery so you are all set to keep track of your weight. And yes you can change it from pounds to KG's.