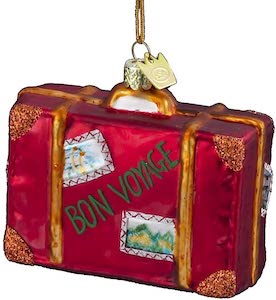 This Christmas season you can have this Suitcase Christmas Ornament in your Christmas tree.
The ornament is a classic looking suitcase and it is red with some patches on it and the text "Bon Voyage" and this not a sturdy suitcase made from fabric or plastic, this suitcase is made from glass to give it that perfect classic look you want from your Christmas ornaments.
A pandemic stops most travel and that is why a ornament like this is a great addition to your holiday tree just to remind us about how nice it was when you where able to just travel almost anywhere without the worries about a virus.