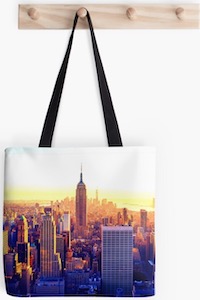 Now you can go shopping and show the world around you that that you really like New York because this is a New York City Tote Bag.
Tote bags are a great way to replace plastic bags when you go shopping but this bag is even great for taking on a trip to New York because on this bag you can see an image New York City with the Empire State Building in the middle and a sunrise.
The New York tote bag is available in different sizes so that you can get the right size bag for your needs and all of the bags have a nice strong big black carry strap.
Maybe you can't go to New York right now but you can at least get a bag like this to feel closer to the Big Apple.