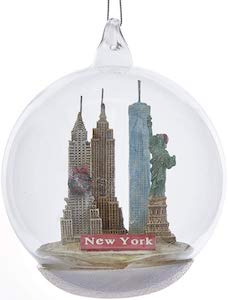 This Christmas you can have this New York Ball Ornament in your Christmas tree.
If you like New York City and maybe you visited it and want to be reminded about it this Christmas then you want to check out this tree ornament.
This ornament is a see through and round and inside it you can see some of the skyscrapers and landmarks including the famous Statue of Liberty.
So if you want something from the big apple in your tree or if you want to surprise someone with a nice ornament then you can surprise them with this piece of Christmas decorations.