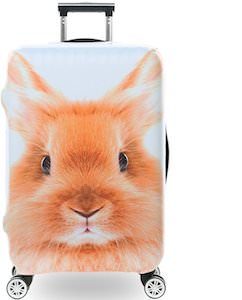 Everyone seems to have the same boring black suitcase these days but thanks so this cute bunny suitcase cover you can make you suitcase look amazingly cute and protect it from theft and damage.
You can get the suitcase cover in 4 sizes and they are flexible to fit snugly around your suitcase and yes, wheels, and handles are all still working as expected.
On the suitcase cover you can see a big head of a bunny and that is just fun and I wonder if the Easter bunny is using this around his suitcase.
Now you can travel without having to worry if you can spot your suitcase because their will not be many rabbit suitcase on the luggage belt at the airport.