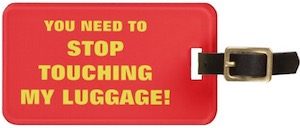 If you like a red and obvious luggage tag then you should check out this one as this luggage tag says "You Need To Stop Touching My Luggage!" in yellow print.
The back of the luggage tag is available in two versions one that just prints your information permanently on it so that it is made to stay and the other option is an ID card slot so that you can keep changing you address or what ever you like.
A luggage tag like this will make it easy to spot your suitcase in between many others all thanks to a luggage tag that just stands out.