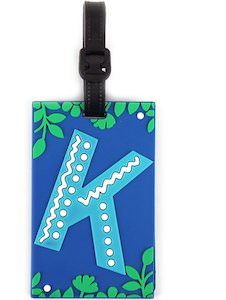 If you like a fun luggage tag then think about getting one with a letter on it like the one with the K on the picture. You can get this luggage tag with many different letters and all comes in a different look so none will look like the blue K besides the K luggage tag.
On the back the luggage tag is just plain in color with an ID pocket on it so that you can keep changing your address .
A fun bag tag like this is great for on your suitcase or you everyday backpack and that way you never really have to loose your luggage again.