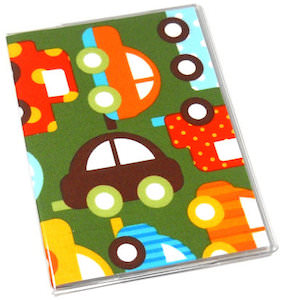 How do your protect passports and make them easy to spot?
Get them a fun passport cover. Now you can put a passport into this fun toy car passport cover.
The outside of this passport cover is vinyl and on the inside there is a fabric that has the toy cars on it and white card stock to keep it all in place.
Just slide your passport in and you are set and kids are gone love this cover.
Now just imagine traveling with a group and you just needs that one passport. No worries as it is easy to find because of this cars passport cover.