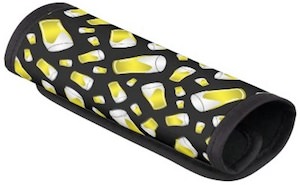 If beer is really important to you then you are gone love this handle wrap.
Just slide this wrap through the handle of a bag and the velcro will close it so that from now on you have a unique handle on your bag that looks cool and different.
And this handle wrap is black but is covered with pints of beer in all kind of sizes. So now you will know what bag is yours because your bag has the beer glasses on them.
Suitcase, sport bag or any other bag with a handle can use this wrap as it makes it easier to carry your bag and much easier to spot.