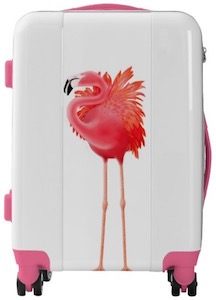 If pink is your color and would like a bird on your suitcase then you are in luck as this suitcase has a pink flamingo on it.
The suitcase is available in 3 sizes and comes with a TSA approved combination lock and has 360-degree wheels and amazing handles.
You can even pink handle, bumper, and wheel holder colors to make it more personal.
If you like to travel in style in a suitcase you really like then look no further as this flamingo suitcase is what you really want and as this is not a store bought suitcase you won't see many of them and that makes it special and easy to spot on a luggage belt.