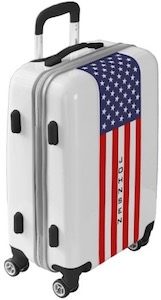 Now you can have a suitcase that is just made for you and shows the world that you like the American Stars and Stripes.
The suitcase is available in 3 different sizes so that you can have one as carry on or a big one.
The suitcase shows the Stars and Stripes US flag on the front but it maybe have a couple too many stars and in between the stripes it will have your name. So now it will be clear what suitcase is yours because it says so.
The suitcase has many color options too so that you can make it perfect for you.
The 360-degree wheels make it easy to navigate and the TSA approved lock keeps your belongings secure inside.