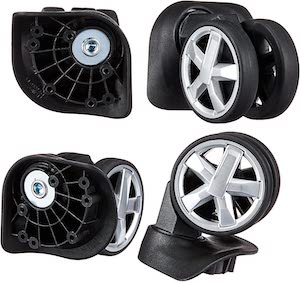 If you suitcase need new wheels then you can now get these Suitcase Replacement Wheels.
Suitcases need wheels because that makes them so much easier to use but unfortunately they can end up breaking and then you perfectly fine suitcase is useless.
But don't worry because you can get replacement wheels and they come in different styles for the style of suitcase you have. And yes they don't automatically line up with wheels holes in your suitcase but they are perfect in getting your suitcase back to being useful.
Now you can prevent your suitcase from ending up at the landfill and add years of use to your favorite suitcase.