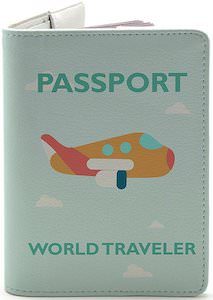 This is just a cute and fun passport cover that would be great for kids and adults.
On the front, the passport holder shows an airplane flying between the clouds and it also says "Passport" and "World Traveler".
Inside the passport cover, it offers room for your passport but also room for some other things like cards and notes so that you maybe can store your ticket and your frequent flyer card together with your passport.
A passport cover like this is great at the job and will keep your passport in new condition and easier to find the right one in a stack all thanks to the nice design.