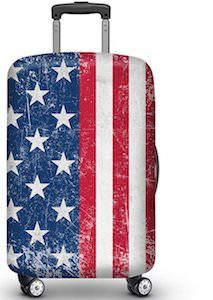 This US flag suitcase cover will transform almost any suitcase into one that looks like the famous stars and stripes flag of the USA.
The suitcase cover has a worn looking flag on it with half of the cover being blue with white stars and the other half is red and white stripes.
The suitcase cover fits snug around you luggage while keeping wheels and handles available. You can get this cover in different sizes to fit perfectly on your luggage and when it is on you show the world that you really like the United States Of America.