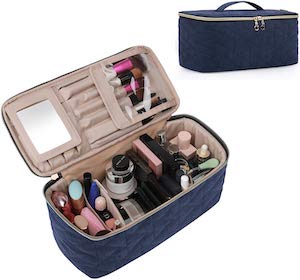 If you need to take a lot of makeup on your trip then you should check out this Travel Makeup Organizer Bag.
This bag is available in many black, dark blue, pink, and teal so that it can fit you luggage or what you prefer.
In the makeup bag you can find a mirror and spaces for brushes and the big main compartment has separators that you can move around to make your stuff fit just perfectly the way you like it.
And if you don't have enough room in your suitcase then you can use the build in strap to fit it around you suitcase luggage handle. This bag is versatile and if you click on the picture you can see other images that show some of the things you can do with it.