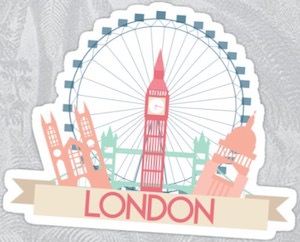 Now there is this London Scenes Sticker that is perfect to show you love for this famous city.
This die cut sticker is available in many sizes and on it you can see a banner on the bottom that says "London" and above it you can see famous place in London like the famous big ferris wheel, Tower Bridge, Big Ben and more.
A fun vinyl sticker like this works on almost anything flat from your suitcase to your laptop and anything else that can use a bit of London.
If you want to be reminded about London then put a sticker on it and you will get flash backs every time you look at it.