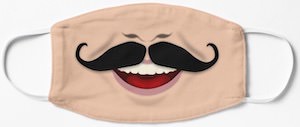 Now you can wear this Smiling Mustache Face Mask and show the world how amazing you would look with a stylish mustache.
Now that we all know that we should be wearing a mask while traveling or just being out in public lets make it a bit more fun by getting a fun mask.
This mask shows a fun smile and a nose and then between the mouth and nose there is a nice big mustache. So now you can have a mustache without actually having it on your face.
This fun face mask is machine washable and that means you can keep it clean and ready for next use.
And this face mask comes in kids and adults sizes so that even your little one can have a cool mustache.