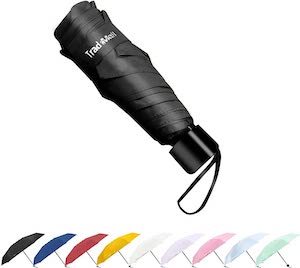 Now you can get this TradMall Mini Umbrella And Parasol that is nice and small and foldable and ready for when you want to stay dry or want to be protected from the sun.
This umbrella is available in many colors to make it just fun to own and it is great at keeping your dry and it will blocks 95% of UV out keeping your protected from the hot summer sun too.
And it comes with a lifetime replacement warranty so you know you have the perfect travel companion made to last.
Your new parasol and umbrella is about 7.5 inches long making it great to have in your handbag or backpack so you can always have it ready for use.