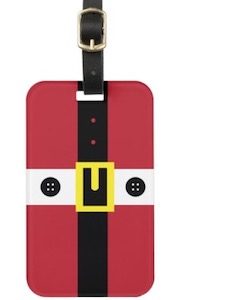 If you like traveling and Christmas then this Santa Claus costume luggage tag could be just perfect for your suitcase.
The luggage tag has a fun red background color and on it you can see a belt and a white band with two buttons on it and yes that is all from the costume of Santa.
You can choose to have the same design on both the back and the front or go with an ID card slot so that you can have your current address always up to date on the bag tag.
So with a fun luggage tag like this, you are ready for your holiday travels.