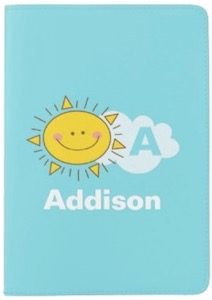 If you are looking for a fun cover to protect your passport then you should be checking out this personalized cover.
The passport holder is light blue in color and on the front you can see a sun with a happy face on it and a little cloud and in the cloud, you can see you initial and below the sun and cloud, it says your name.
So now you can have a fun way to protect your passport and it is personalized so that makes it a lot easier to find the right passport in the stack of passports of your family.