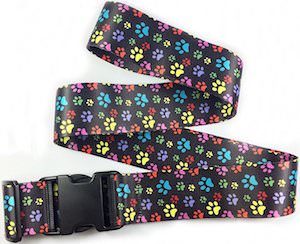 If you like animals and need a luggage strap for your suitcase then this paw print luggage strap is what you want to take a look at.
The Luggage strap is black and on that black, you will find a crazy amount of paw prints in all kinds of colors and the paws have different sizes too.
It will be so cute to have this strap around your luggage and it will make it easier to find your luggage.
The paw print strap has a black buckle and no lock and the strap is adjustable in size.
Besides making it easier to spot your luggage it also protects it from accidently opening and making it just a little bit harder for thieves to get in.