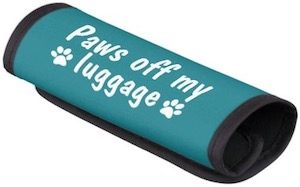 Often bags and suitcases don't have a great handle to carry them but that is why they invented handle wraps to make them perfect for carrying.
Now there is a fun handle wrap for people that like animal paws as it shows two on there and also the text "Paws Off My Luggage" so that nobody else is going to take your luggage.
A fun handle wrap like this is not only great for carrying but also great at making it easy to find you luggage as now the handle will be something no other bag standard comes with.