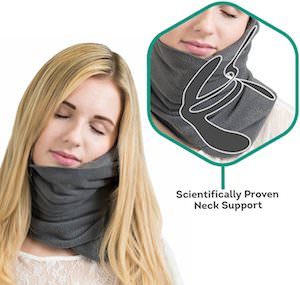 Sure we all know the traditional u shape foam travel pillows but we all know that they don't do much for neck support and that is why you want the Trtl pillow as it offers everything you wished for.
The travel pillow wears more like a scarf and closed with velcro and in the pillow, you find a headstand so that you head has the real support that is strong enough to keep your head and neck in position and all that without being uncomfortable to wear.
You can get this amazing travel pillow in a range of colors so that it can be a travel companion that looks great and is just what you need.